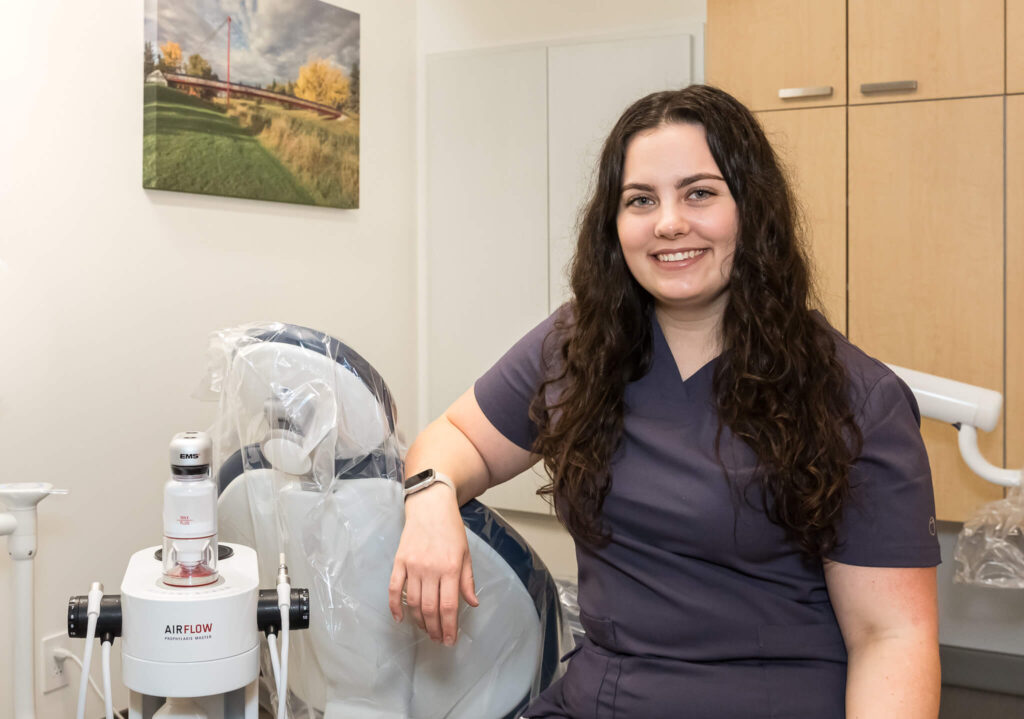 Why Guided Biofilm Therapy? Healthier mouths make for happier patients!
Guided Biofilm Therapy™️ is a seven-step treatment that helps you achieve a healthier smile and helps to improve your overall general health. Biofilm (often referred to as plaque) can cause unhealthy gums that compromise the lifespan of the teeth and may contribute to more serious general health conditions.
Step 1. A complete oral health assessment to screen for signs of gum disease and lifestyle factors that may increase your risk of dental disease.  Early detection is crucial in eliminating and preventing disease.
Step 2. An organic dye is applied to the teeth to make the biofilm visible and highlight the areas which need the most attention.
Step 3. Now that we can see the biofilm, the hygienists show ways to personalize your oral hygiene routine. Good daily home care will reduce your risk of developing dental disease.
Step 4. Airflow Max™️ technology combined with Erythritol powder removes biofilm and stains from the teeth, tongue, and surrounding soft tissues using a gentle jet of air and warm water. This procedure is gentle and can be used on natural teeth, restorations, orthodontic braces, implants, the tongue, and gums.
Step 5. If required, the Perioflow™️ will be used to carefully disrupt any biofilm from the gum pockets.
Step 6. Piezo PS™️ is used to remove the remaining hard deposits (calculus). Targeted and gentle removal of calculus.
Step 7. A thorough final check to ensure all the biofilm and deposits have been removed and that the teeth and soft tissues are healthy and problem-free.
Biofilm Therapy is a patient-friendly approach to lifelong oral health.